Speaking of new, here's a recent clip of a typical day in the studio. Enjoy!




Things just keep growing here at D6 -- new projects, new rooms, new studio mates, new guests. We call it "work", but it's more like "play". Yay comics!
Some of you may have been a tad concerned by how we left our hero Nikolai Dante at the end of the 'Amerika' saga.
Fear not, as you can see below...he bounces back admirably
Did you know? If you rearrange the letters of Deep Six Studios, you get DIXIE STUD POSSE!
Cavallaro " HA! I can do a Sketch of Spiderman with my EYES CLOSED"
( proceeds to do just that )
Dean " That's TERRIBLE, here let me try "
(Proceeds to try )
( then we get Simon, then Steve Fuentes ( the intern ))
Next week - Studio Deep6 draw Spawn- with pens clutched in their Butt-Cheeks
Simon " Drawing Con Sketches of Spiderman is REALLY hard!"
"I tend to forget in the midst of all this that it was such a good book," says Larsen. "Between this and Frank Miller doing Daredevil and Walt Simonson doing Thor, all in the same studio..." he trails off wistfully.
"They were producing really the best work that they ever produced all sitting next to each other trying to one-up each other. Ultimately, when all is said and done, we'll be able to look at it and say, 'This is a good book.' I think the time and effort will pay off."
http://www.publishersweekly.com/article/CA6578626.html?nid=2789
In 1985, I worked as an assistant to Howard Chaykin and Walter Simonson at Upstart Studios and, down the hall, Bill Sienkiewicz, located in the Garment District of Manhattan. Now, I work at DEEP6 Studios in Gowanus, Brooklyn with a good bunch of talented artists and the below quotes [re: Chaykin's AMERICAN FLAGG! collection] reminded me of how I currently feel:
Here's some recent news:
http://www.comicon.com/pulse/
THE PULSE: What other projects are you working on?
J.M. DeMATTEIS: I've got a project in the works for IDW called THE LIFE AND TIMES OF SAVIOR 28. It's a story, spanning more than six decades, about superheroes, politics, violence, pacifism and pop culture (among other things). This is a project I've been developing for years and I've finally found the right artist for it: Mike Cavallaro, who was just nominated for an Eisner Award for his wonderful PARADE (WITH FIREWORKS) series from Image. SAVIOR 28 should be out late in '08.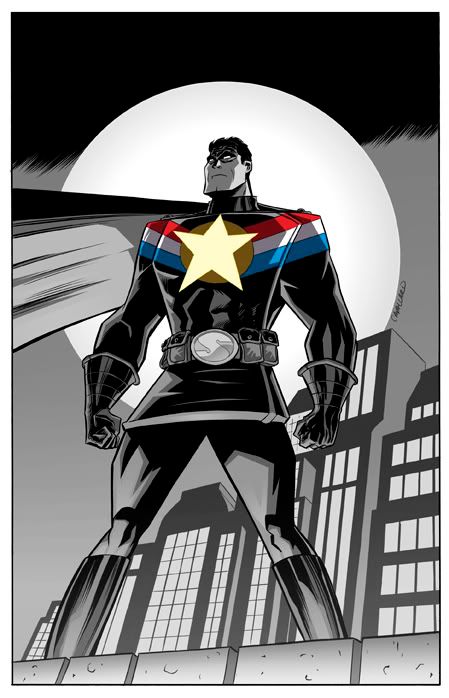 So busy lately!